I'm wanting to do just a few things to tweak our dining room. It's one of the first rooms you see in our house and our pass through to get to the kitchen from the front of the house. I'm loving how neutral it is right now but I want to kick it up just a notch.
We're sticking with core items in rich wood tones, like the table and cane chairs, secretary, and wood tone buffet. They're all classic old pieces and I appreciate their stuffiness. The walls are still classic grey and the windows are white linen panels for now.
The first picture is the view from the kitchen and the bottom is the view from the living room. As you can see there is a lot of visual space going on so I don't want to go overboard in any one room. In reality they are very much defined areas but your eye can see them all at once too. I need whatever is added to this room to visually work with the rest of the front of our home. I need to use varying shades of the same color scheme in order to pull this off.
I'm just starting to feel brave and wanting to add in some more color. I'd also like to bring down the formal feel just a notch. I know some fresh new accessories can help do the trick. I think sticking with our love for all things coastal will hit on both aspects perfectly. The soft shades of aqua and blues will trickle in from the
front hall
. Some lighting and accessories that don't take themselves too seriously are the perfect match for our more grown up table and chairs.
Couldn't you just love everything in this board? I wish I could magically bring this wish list to life. I like having a road map to keep me on track. And this round-up confirms that there is indeed a subtle way to add in more layers and color without just randomly adding in more stuff. And I like that the soft blues and greens are making there way from both the
front hall
and
living room
which you can see from all three spaces.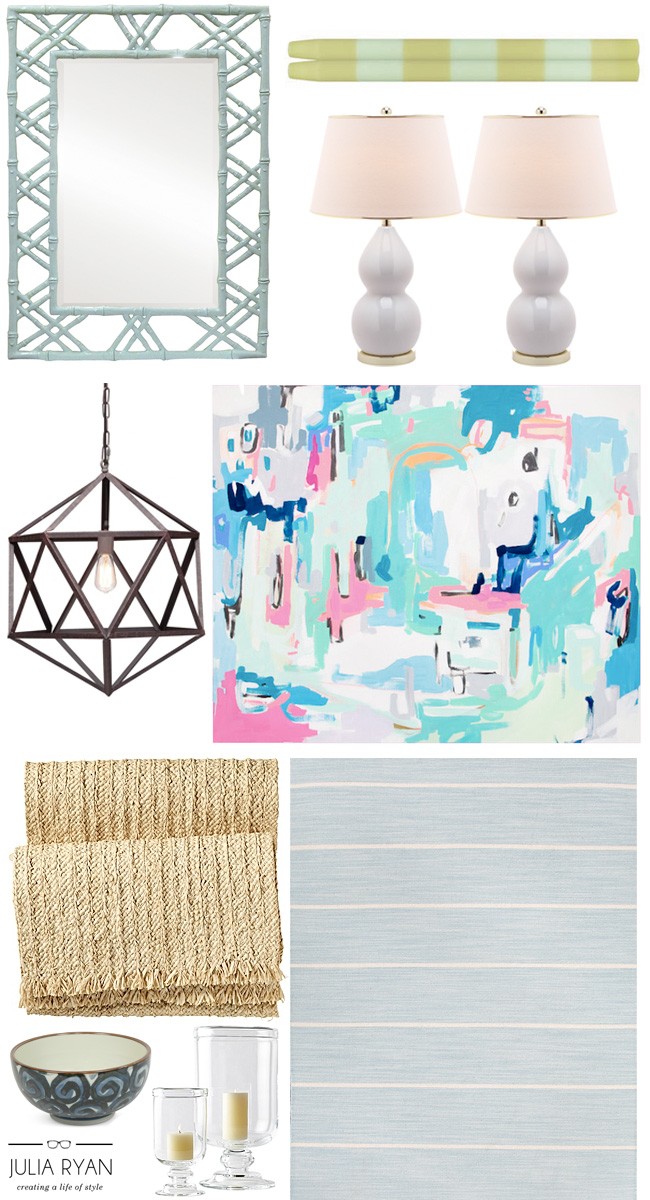 Layla Grayce Bungalow 5 Claire Light Blue Mirror | Wasabi Green + Mint Striped Taper Candles | Lulu & Georgia Lydia Lamp (set of 2) | Lulu & Georgia Gage Lamp | Furbish Studio Hollywood Print by Britt Bass | Rafia Runner | Wave Bowls | Palais Glass Hurricanes | Sailor Girl Rug, powder blue