Well it's finally here, the December 1st countdown to Christmas!
Although if you follow my instagram you know we haven't been waiting.
There are a lot of times when having a four year old and an almost three year old is really hard work. But I have never been so amazed by the energy levels of these two non-napping monkeys as I am when watching their enthusiasm over the magic of Christmas. They begged us to put up our tree a week before Thanksgiving to which we happily obliged.
It lives in our attic so they knew it was just sitting up their waiting to be put back together and plugged in
. Each night they say goodnight to the tree and ask to hang some more decorations. Wells has even been humming Christmas music. Every morning they wake up eager to run downstairs and turn on the pretty lights and check their stockings.
Nothing so far
. So far the novelty has most certainly not worn off. I'm hoping it never will. It's so fun to get to celebrate this Christmas Season with them. Their joy and excitement is contagious. It makes the whole holiday season shine brighter. It has never been more fun celebrating the birth of Jesus and I can't wait to kick it up a notch and make their childhood memories merry!
I hope everyone had a wonderful Thanksgiving celebration. Today is all about continuing the gratefulness by saying thank you to you all for your readership. This blog is a true passion of mine and having you carve out a little time in your day to read means so much to me. So how about we start this month off with a giveaway and a chance to win $250 cash in appreciation of you! I've teamed up with some of my favorite blog friends to put together this special holiday giveaway. It's just a small token of our appreciation for all your support and what better time to do it then around the holidays.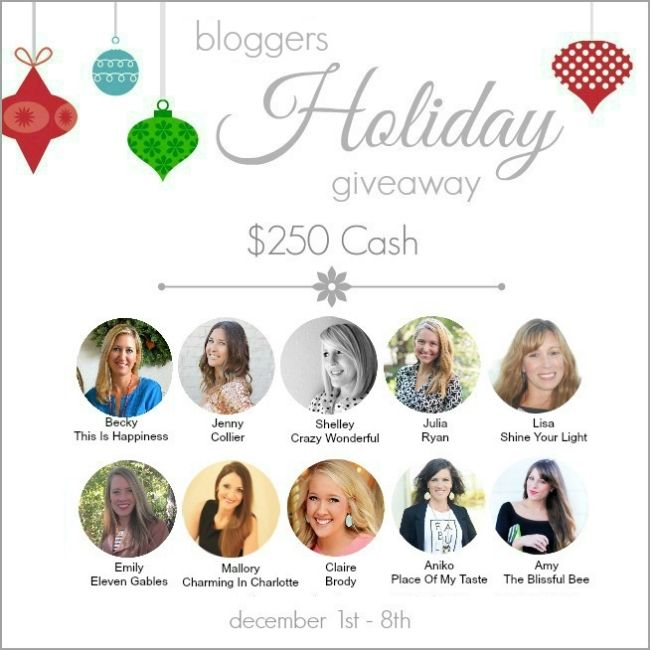 Becky at
This Is Happiness
// Jenny Collier
// Shelley at
Crazy Wonderful
//
Julia Ryan
// Lisa at
Shine Your Light
// Emily at
Eleven Gables
// Mallory at
Charming In Charlotte
//
Claire Brody
// Aniko at
Place of My Taste
// Amy at
The Blissful Bee
You can use the Rafflecopter below to enter. The winner will be announced December 8th. Good Luck!